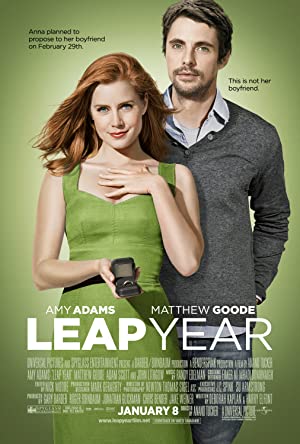 Category:

Other

Genre:

Romance

Year:

2010

Aka:

Leap Year
Високосный год
Propuesta de Año Bisiesto
Donne-moi ta main
Casa Comigo?
Leap Year US
I kærlighed og modgang
Tinhas Mesmo Que Ser Tu...

Actors:

Amy Adams, Matthew Goode, John Lithgow, Flaminia Cinque, Tony Rohr, Pat Laffan, Dominique McElligott, Ian McElhinney, Adam Scott, Kaitlin Olson, Michael J. Reynolds, Michael Ford-FitzGerald, Vincenzo Nicoli, Marcia Warren, Noel O'Donovan, Alan Devlin, Mark O'Regan, Maggie McCarthy, Peter O'Meara, Pat Deery, John Burke, Macdara Ó Fátharta, Catherine Walker, Ben Caplan, Mali Harries, Sarah Hadland, Breffni McKenna, David Fynn

Details:

Genre: Comedy, Romance
Director: Anand Tucker
Writer: Deborah Kaplan, Harry Elfont

Plot:
Anna Brady plans to travel to Dublin, Ireland to propose marriage to her boyfriend Jeremy on Leap Day, because, according to Irish tradition, a man who receives a marriage proposal on a leap day must accept it.

Subtitles available:
Language
Info
Is draft?
Screenshots
Ratings
Name
Downloads
Details
Dutch
Info / Download

▼ 0

┅ 0

△ 0

▲ 0

Leap year (2010)
1
uploaded by BlueChip
English
Info / Download

▼ 0

┅ 0

△ 0

▲ 0

Leap Year (2010)
42
uploaded by xed