[FamilySwap] Lauren Phillips and Lulu Chu - You Cant Fight Naked (2020)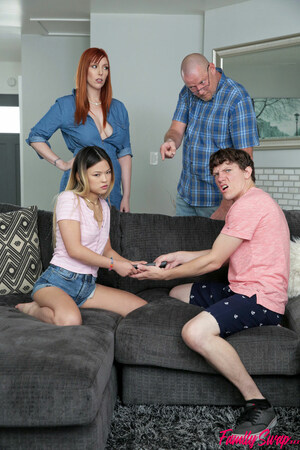 Category:

Web Scene

Genre:

Year:

2020

Aka:

Actors:

Details:

What would happen if four families each contributed one member to create a new family? In this episode of Family Swap, swap siblings Lulu Chu and Rion King can't stop fighting. Their swap parents, Laruen Philips and Dick Chibble, think that it's sexual tension. They tell the kids to get naked. If they continue to fight with their clothes off, it's definitely sexual tension. Sure enough, the duo continues their bickering even after stripping. Things take an interesting turn when they begin to wrestle naked for the remote control and Rion's cock slips inside Lulu. It's even more interesting when Lulu realizes that she likes it!

Lauren and Dick aren't quite satisfied with that outcome since they think their swap kids should be banging in a loving manner. Lauren asks Dick if he wants to help her out showing Lulu and Rion how sex should really be, and Dick agrees. Any excuse to get his hands on his hot swap wife! It's not long before Lulu is getting her pussy pumped by Rion while she's back to back with Lauren, who is being eaten out by Dick. Dick eventually gets to his feet so that he is buried balls deep inside Lauren's creamy snatch.

Now that Lauren has gotten the family orgy started, she wants to try Rion on for size. She and Lulu switch so that Lulu can experience swap daddy's doggy style pussy pounding while Lauren rides Rion's dick. Then Lauren has Rion give it to her in doggy while Lulu rides Dick. Swap mom and daughter change partners again, leaving Lauren on her side with Dick spooned behind her and Lulu once again hops on top of Rion. Then the girls get on their knees side by side, delivering simultaneous blowjobs to Dick and Rion that end with a facial for each of them. The girls snowball their treat and agree that maybe there was some sexual tension.
Subtitles available:
Language
Info
Is draft?
Screenshots
Ratings
Name
Downloads
Details
Spanish
Info / Download

Draft

▼ 0

┅ 0

△ 0

▲ 0

[FamilySwap] Lauren Phillips and Lulu Chu - You Cant Fight Naked (2020)
69
uploaded by Elpanatuna
Turkish
Info / Download

▼ 0

┅ 0

△ 0

▲ 2

[FamilySwap] Lauren Phillips and Lulu Chu - You Cant Fight Naked (2020)
226
uploaded by Borolgin