[MXGS-694] - Abnormal love addiction-married woman's libido urge (2014)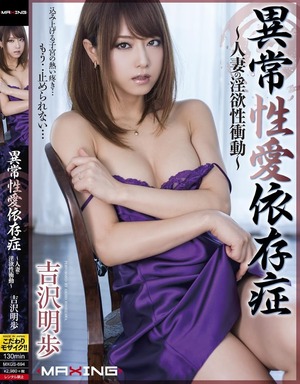 Category:

JAV

Genre:

Drama

Year:

2014

Aka:

Actors:

Details:

Akiho has been married for many years, and her life has fallen into a rut. However, she feels liberated when her mother-in-law has to go to a nursing home, and as a sign of that liberation she removed her panties and takes a walk around the neighborhood.

However, one of her neighbros realizes this, and takes advantage of it. An act which opens her eyes to something that lay dormant in the past. And soon she can not stop herself from taking on a series of lovers, starting with the man that rents her mother-in-law's old room. And with each lover she finds herself taking more and more chances.

Or as the company itself explains it...

Akiho is a housewife of a mediocre family. One day, when she walks outside with no underwear from her heart, she feels the thrill and exhilaration that she never experiences in her daily life. From that day on, the closed desires of Akiho awaken and she awakens. Every day she indulges in SEX with men in the room next to her, which is a vacant room. The act of betrayal to her husband drives her nasty lust. Eventually, she wasn't tired of her life and was dreaming of even more unusual SEX, but ...
Subtitles available:
Language
Info
Is draft?
Screenshots
Ratings
Name
Downloads
Details
English
Info / Download

✓

▼ 0

┅ 0

△ 0

▲ 0

[MXGS-694] - Abnormal love addiction-married woman's libido urge (2014)
350
uploaded by Mushroom
Romanian
Info / Download

▼ 0

┅ 0

△ 0

▲ 0

[MXGS-694] - Abnormal love addiction-married woman's libido urge (2014)
22
uploaded by emil55