[JUQ-020] - A chance reunion with a sexually harassed teacher from school days at Deriheru. From that day on, she was forced to become a compliant pet (2022)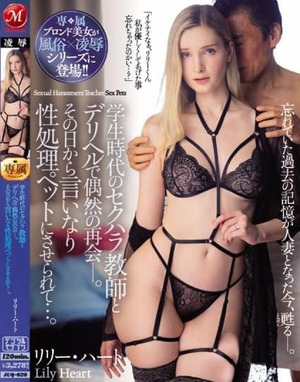 Category:

JAV

Genre:

Drama

Year:

2022

Aka:

Actors:

Details:

Lily is a working wife, who alone has to support the family after her husband is injured and can not work. He thinks she works at a cafe, but she can not bare to tell him she is actually working as a prostitute giving handjobs and blowjobs to make a living.

However, one night the customer that calls her is an old teacher from when she was in college. Not only a teacher, but one that had molested her claiming it was a "uniform inspection". She tries to resist him, but he will not take no for an answer and takes her fully. She feels shame and quits the job, and lands one at a cafe.

However, he tracks her down and uses her again right there at work. She tries to end it, but he calls her home. She now knows she has to give into him out of fear he will tell her husband what she had been doing.

Or as the company describes it:

A few years after I got married to my husband, whom I have been dating since my school days, both happiness and misfortune have befallen us at the same time. Half a year ago, my husband became ill and I lost my job. My dream home was heavily burdened by the loan, and I had no choice but to work at night instead of part-time. One day, I met a familiar person when I went to the hotel as usual. That person was a sexual harassment teacher, Mr. Murai, and from that day on, I decided to dedicate my body to her teacher as a sex processing pet.
Subtitles available:
Language
Info
Is draft?
Screenshots
Ratings
Name
Downloads
Details
English
Info / Download

▼ 0

┅ 0

△ 0

▲ 1

[JUQ-020] - A chance reunion with a sexually harassed teacher from school days at Deriheru. From that day on, she was forced to become a compliant pet (2022)
548
uploaded by Mushroom