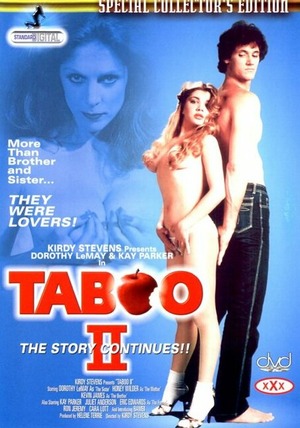 Category:

Porn

Genre:

Drama, Romance

Year:

1982

Aka:

Taboo II
Taboo II
Taboo II... The Story Continues!
Taboo 2
Meine geile Schwester
禁忌2

Actors:

Dorothy LeMay, Honey Wilder, Kevin James, Eric Edwards, Kay Parker, Juliet Anderson, Tammy, Cara Lott, Crystal Dawn, Brooke Bennett, Linda Shaw, Terry Galko, Jeff Conrad, Ron Jeremy, Craig Roberts, David Cannon, Rod Diamond, Helene Terrie, Rochelle Dean, Edward Dean

Details:

Genre: Adult, Drama
Director: Kirdy Stevens
Writer: Helene Terrie

Plot:
A horny young man has sex with Barbara who tells him about her affair with her son. He wonders what it'd be like to hook up with his beautiful sister and their gorgeous mother, while the sister starts thinking about their manly father.

Subtitles available: