Kunsten at græde i kor (2006)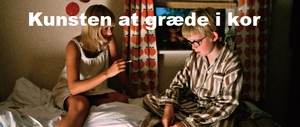 Category:

Other

Genre:

Comedy

Year:

2006

Aka:

Kunsten at græde i kor
The Art of Crying

Actors:

Jannik Lorenzen, Jesper Asholt, Julie Kolbech, Hanne Hedelund, Thomas Knuth-Winterfeldt, Rita Angela, Gitte Siem, Lene Tiemroth, Bjarne Henriksen, Laura Kamis Wrang, Tue Frisk Petersen, Sune Thomsen, Jacob Tranæs, Bodil Lassen, Helle Jensen, Rolf Hansen, Christian Tychsen, Troels Malling Thaarup, Pia Hansen, Hans Henrik Voetmann, Viktor Markussen, Camilla Metelmann, Malene Brandt, Thenna Bjørn Hansen, Søren Christensen, Anders Villadsen, Steffen Westmark, Per Jørgensen

Details:

Genre: Comedy, Drama
Director: Peter Schønau Fog
Writer: Bo Hr. Hansen, Erling Jepsen

Plot:
Southern Jutland, DK, early 1970s: A dysfunctional family is burdened by an evil, self-righteous father, who manipulates his 11 y.o. son and 14 y.o. daughter with his repeated suicide threats.

Subtitles available:
Language
Info
Is draft?
Screenshots
Ratings
Name
Downloads
Details
Bulgarian
Info / Download

Draft

▼ 0

┅ 0

△ 0

▲ 0

Kunsten at græde i kor (2006)
3
uploaded by Satanas
English
Info / Download

▼ 0

┅ 0

△ 0

▲ 0

Kunsten at græde i kor (2006)
6
uploaded by Satanas