[FamilySwap] Aaliyah Love and Vanna Bardot - Mom Goes Nude (2020)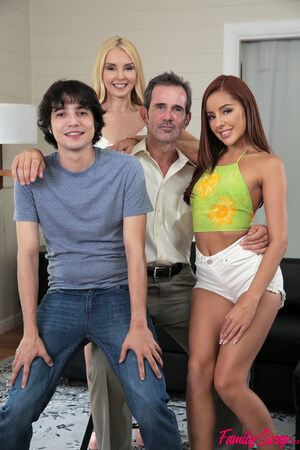 Category:

Web Scene

Genre:

Year:

2020

Aka:

Actors:

Details:

What would happen if four families each contributed one member to create a new family? In this episode of Family Swap, Ricky Spanish and Vanna Bardot are swap bro and sis, while Aaliyah Love and Rusty Nails are swap spouses. Everything seems normal enough when the family arrives in their new home, but imagine the surprise of everyone else when Aaliyah walks into the kitchen buck naked. It turns out that she's a nudist. She even listed it in her bio, but none of her swap family members read it. Aaliyah encourages the fam to join her in the freedom of nudity while simultaneously claiming that there's nothing sexual about it. No one else seems willing, so Aaliyah pours herself some coffee and ducks out.

Later, Ricky walks in on Aaliyah doing naked yoga in the living room. He hides so he can perv on his hot swap mommy, but Vanna and Rusty catch him in the act. They call a family meeting, where Aaliyah once again encourages everyone to get nude. Ricky is game now, but Vanna will only do it if her swap daddy Rusty gets naked. With Aaliyah egging him on, Ricky starts stripping. Vanna eventually decides to try it out, too. That gives her the opportunity to point out that Rusty is hard. As Vanna drops to her knees to take care of her swap dad's hardon, Aaliyah leans forward and Ricky takes a chance by shoving it in. Aaliyah likes it!

Since the whole family is now in on the sexy times, Rusty peels off the last of his clothes and then takes a seat on the couch. As the swap kids watch, Aaliyah slides down onto Rusty's hardon and starts riding him in reverse cowgirl. Ricky and Vanna find it super hot as they engage in some mutual masturbation, and eventually they decide to get in on the action themselves. On her hands and knees, Vanna kisses Aaliyah as Ricky pounds her in doggy. Then the girls swap partners so that Vanna can enjoy the dad dick she's been admiring while Aaliyah lays on her side and lifts one leg high so Ricky and stick it in. Ricky can't help but creampie his hot swap mom, and Rusty follows suit with his cum craving swap daughter. As they all bask in the afterglow, the family has to admit that nudism is fun.
Subtitles available:
Language
Info
Is draft?
Screenshots
Ratings
Name
Downloads
Details
English
Info / Download

▼ 0

┅ 0

△ 0

▲ 0

[FamilySwap] Aaliyah Love and Vanna Bardot - Mom Goes Nude (2020)
115
uploaded by Dzekus
Polish
Info / Download

▼ 0

┅ 0

△ 0

▲ 1

[FamilySwap] Aaliyah Love and Vanna Bardot - Mom Goes Nude (2020)
46
uploaded by Dzekus
Spanish
Info / Download

▼ 0

┅ 0

△ 0

▲ 0

[FamilySwap] Aaliyah Love and Vanna Bardot - Mom Goes Nude (2020)
93
uploaded by Dzekus
Turkish
Info / Download

▼ 0

┅ 0

△ 0

▲ 1

[FamilySwap] Aaliyah Love and Vanna Bardot - Mom Goes Nude (2020)
168
uploaded by Borolgin